We are so excited to have Barby be a part of the CureClick Ambassador family. From time to time, we'll feature insights and stories from our Ambassadors. Thanks Barby for sharing your passion and support for increasing awareness for clinical trials.
Here's a little background on Barby:
Barby Ingle is a chronic pain educator, patient advocate, and chairman of the board for the Power of Pain Foundation, as well as a motivational speaker and best selling author on pain topics. She has been a pain patient since developing endometriosis in 1997, and reflex sympathetic dystrophy in 2002. She began mentoring other patients in 2006.  Barby also serves on the board of advisers for CureClick, is a member of SPPAN, and a founding member of CPATF.
In Barby's words: Why Barby Ingle Became a CureClick Ambassador and Now Serves On the CureClick Advisory Board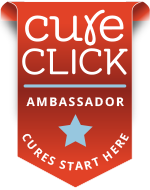 Back in November, 2014 I received a request to become a CureClick Ambassador. What is this all about, I thought to myself? Is it helping pain patients and the chronically ill? After checking it out, I realized that this was a perfect tool to share clinical research trials with the pain community I work with. I also realized that is has far more reach than that, as my friends and followers pass it on to their connections. I personally have family members who have suffered multiple strokes, TBI and Alzheimer's, COPD, vascular issues, quad-bypass surgeries, diabetes, RSD, etc. With over 130 million Americans living with a chronic illness it affects our entire population, either as a patient, caregiver, or provider. Since my start I have help recruit trail participants for chronic obstructive pulmonary disease (COPD), HR+, her2- breast cancer, memory loss or alzheimer's disease, people at risk of developing early alzheimer's disease, rheumatoid arthritis, severe asthma, type-2 diabetes with severe kidney disease and type-2 diabetes. There are more and more trials being updated and posted frequently. Three upcoming trials that I know of are pre-alzheimer's, non-small cell lung cancer stage IV, and prostate cancer.
I love that I can share valuable education about the importance of clinical trials and help teach others about the research process. In the past few months I have been spreading the word about a new trial in addition to sharing statistics and why that trial is so important. I decided to write this blog post about my experiences for the last 5-6 months so that my friends, followers and members of the POPF understand why I got involved and why I am so proud to have been asked to be on the advisory board.
The resource area on the CureClick site include overview videos, more info on how rewards work, how I am being compensated, etc. For me personally, I have decided to donate the funds I raise to help the Power of Pain Foundation. My compensation comes in the form of Amazon Gift Cards. I deposit these cards into the POPF Amazon account, and when we need supplies or resources off of Amazon, we are able to purchase them with these funds. It has been working out great. To date I have raised $200 ($150 as an advisory board member, and $50 due to participation of those who have qualified to participate in the trials).
As new trials come open I will post information and a link on my social media accounts. My friends and followers will be informed readers when it comes to where to go to read about the trial and how to apply if they feel they are a good fit for the trial. All of the information I provide in my posts has been carefully worded, and then meticulously reviewed by a federally-regulated governing body known as the Institutional Review Board (IRB). This way my readers can know it is legit and accurate. A typical post from me will be with a graphic with information/education about the disease the trial represents, text such as the study title, purpose, study locations, eligibility criteria, and the link to check it out for yourself. I want your participation so that those you love in your life to get help with their illness in a proper and timely manner. The most important part to me is that I am educating all of you about trials and disease specific information on a variety of chronic diseases.
Can you become a CureClick Trial Ambassador? You can learn more about CureClick at http://curec.lk/1Gb4toG
To view Barby's blog, please visit: http://barbyingle.com/blog/